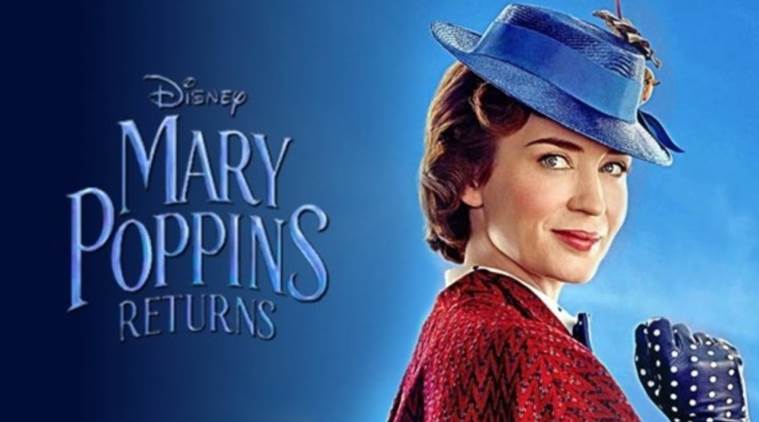 Director: Rob Marshall
Actors: Emily Blunt, Lin-Manuel Miranda, Ben Whishaw, Emily Mortimer

Award Corner: ☆☆☆☆ – B

Out on Blu-Ray and DVD this week is the much acclaimed Mary Poppins Returns. As one of the few people I know who've actually read the original books by P.L. Travers, I was excited to see what new book characters they were going to bring to life. I did see this movie the same weekend I saw Aquaman, but luckily they are completely different so there's no chance of me confusing the two.

Plot:
This movie is 64 years after the fact, but the plot-line picks up maybe 15-20 years after the Banks' children last said good-bye to everyone's favorite nanny. Michael Banks has grown up to follow in his father's footsteps, although he had dreams to be artist. A recent widower he has three young children of his own. There's money troubles on Cherry Tree Lane (and much of the world) as it's during the 1930s market slump. Jane has become an advocate for those out of work and divides her time between helping her brother and helping the masses. Of course, Mary Poppins arrives to look after the Banks children, young and old. Through gentle persuasion, jaunty songs, and several adventures, the young family learns how to be a family again in true Mary Poppins fashion. Several new adventures occur, including a trip down the bathtub, a topsy-turvy fix-it, and a slightly terrifying trip into a glass bowl. If I remember rightly, it was also a bit unnerving in the books as well. This scene as well as the equivalent to "Step In Time" seemed to drag on unnecessarily so and disrupted the overall flow of the movie.

Actors:
Casting this movie could not have been easy. Julie Andrews and Dick Van Dyke were a dynamic duo who created a movie that lasted generations. However, they made a perfect pick with Emily Blunt. She was delightfully droll and somehow managed to take the role of Mary Poppins and make it her own. I like Lin-Manuel Miranda as a composer and lyricist, I'm not entirely sold on his acting yet. I know he does fabulous on stage, but I wasn't as enthused with him as Jack the Lamp Lighter. The songs were fabulous, however. Ben Whishaw does a credible job as Michael Banks. And of course, there had to be a Jane to Michael so Emily Mortimer was picked as the plucky older sister. The entire cast did a great job at not recreating, but furthering the Mary Poppins saga. There's a host of special nods, including the original Jane Banks, and some other well known actors.

Visuals:
Set in London in the 1930s, there's a different bit of dingy to the set in a completely different way than the original. There was an animated element, where they stuck with the classic animated look which was a nice nod to the penguins of old. The choreography of "Trip a Little Light Fantastic" was spot-on but again, dragged on for a very, very long time. Perhaps the best scene was the Topsy Turvy where everyone ended up upside down and a Meryl Streep played an extremely interesting gypsy. The costumes were amazing and very period specific without seeming overdone.

Music:
This was the hardest part for me to wrap my head around. The previous songs were just so iconic that everything that comes out in this movie, I constantly compared to the old. In some ways, I felt like they were trying too hard. There were several songs that I did like, including "Underneath the Lovely London Sky," "Can You Imagine That," and "A Cover Is Not The Book." I'm sure with repeated listening, it will become as iconic as it's predecessor.

---
Overall: A solid, refreshing return to the world P.L. Travers. Definitely worth owning, especially if you haven't seen it in theaters. If you keep an open mind and don't compare it, I think you'll agree. An uplifting movie for adults and children alike.